Making Strides Against Breast Cancer Tees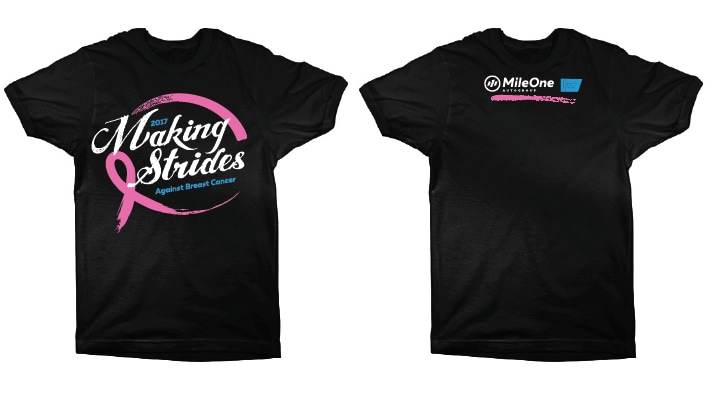 It is time to order your t-shirt for the Making Strides Against Breast Cancer walk! 
MileOne is covering all costs of this shirt, so all you have to do is fill out the form below. 
Both the Baltimore walk and Virginia walk will wear the shirt pictured above on their walk. MotorWorld employees will wear the Finish the Fight long sleeve shirts that were ordered previously and do NOT need to fill out the form below. 
We encourage families and friends to join us at this walk, so please be sure to order enough for everyone participating - including children! The shirts come in unisex and youth sizes.
Don't forget to sign up for the walk on the actual Making Strides Against Breast Cancer walk pages. To do so, visit the page listed below and scroll down to teams. Find your team name (your location) and sign-up under that team name. NOTE: you will have to make an account. If you had an account from last year, use that log-in. 
Signing up on the Making Strides site ensures accountability and allows your friends and family to have a place online to make donations. Share the link on your social sites to raise more money. If you're individual page raises more than $25 you will receive a pink cape to wear on the day of the walk. 
Shirts are available for purchase until September 22nd.