ACS Shirts for the 2019 Fundraising Season are Available until August 14th
Help us fight for a world without cancer. 
MileOne is proud to continue our partnership with the American Cancer Society! During our 20-year partnership we have raised over $3.4 million dollars in the fight against cancer.
To start the 2019 fundraising season, ACS-themed t-shirts, long sleeve shirts, polos and long sleeve polos are now available for purchase through August 14. All proceeds fund the American Cancer Society's Road to Recovery Program.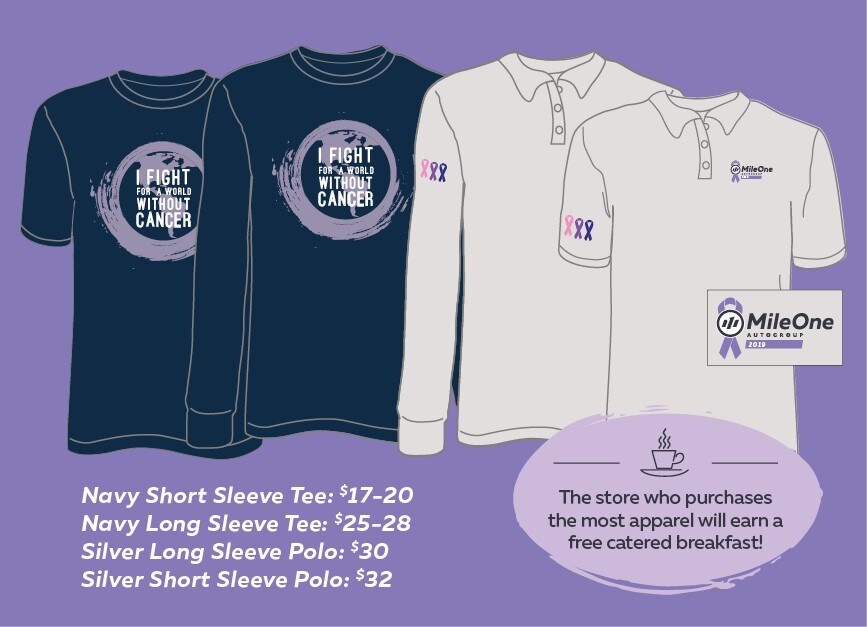 NEW - Multiple Ribbons!
Select up to four cancer ribbons to have embroidered on the sleeve of your polo for an extra $5 per ribbon.
How to Order
1. Visit mileone.mymarketingbench.com
2. User ID/Password:
Current Users = Current User ID/Password
New Users = first initial + last name
3. Click the ACS catalog & make your
    selections
4. Choose your shipping destination 
For questions, contact Melissa Tully at x10428
Make an Inquiry